BYG SYSTEMS feedback
Last Friday me an my group went to the BYG SYSTEMS to pitch our idea for the brief they presented to us 2 weeks ago.
We were all very stressed, expecting to see a big board meeting and having to pitch in all of them. Fortunately this did not have place. We had to only speak with Chris and Matt (same guys who presented the project brief to us), we were allowed to sit down and got offered snacks and drinks.
The presentation went smoothly, although Chris and Matt were very pleased that we brought animatic with us we couldn't present it because there was a sound problem on the TV which were using (they couldn't un-mute it)[we left the animatic with them so they could watch it on a different device]. Instead we went through the story board explaining everything and answering questions.
I am really happy to say that Chris and Matt liked our idea. They said that we were very well prepared and we did meet their expectations. Of course they suggested a few minor changes and requested a new story board to be send to them before Wednesday so we could start animate as quickly as possible.
As the last thing we finally received the timetable with which BYG would like us to work with.
OMG ORGANISATION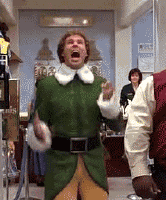 References:
GIPHY. (2017). Im So Excited GIF – Find & Share on GIPHY. [online] Available at: https://media.giphy.com/media/e7WApJiX8sfv2/giphy.gif [Accessed 7 May 2017].