Done
Normal version – it might be easier to read here, since the pictures are not very big
Toon vs. actor – Clash of the universes
Dark evening. Regular looking front room. A regular looking guy (Mike) sitting on the sofa, eating popcorn and watching cartoons (TURBO CAT). TV screen is the only source of light.
Guy speaks with his mouth full of popcorn staring at the screen. Turbo Cat is fighting someone, he just used a pawzooka (bazooka-pawzooka).
MIKE – Oh man, Turbo Cat is so cool. I wish toons were alive.
Cartoon action stops. Turbo cat breaks the third wall and looks at our guy.
TURBO CAT– What are you on about mate? We are alive!
Mike chokes on the popcorn.
MIKE – Woah?! The hell?!
TURBO CAT – Chill man, you're acting like you've had too much catnip.
Turbo Cat comes out of the TV ('The Ring' style). Mike is hiding behind the sofa. Turbo Cat walks towards him. Tv becomes blank.
TURBO CAT – Okay, you are starting to annoy me now. You've been watching every single episode of Turbo Cat through the last 3 seasons. Don't you get it yet? I AM THE GOOD GUY. Now stop hiding behind the sofa.
Mike sits back on the sofa, he is staring at Turbo Cat with his mouth wide opened. Turbo Cat positions himself on the other end of the sofa, looks at Mike and reaches with one hand towards him while saying.
TURBO CAT – Okay, I may have done it wrong. I'm Turbo Cat, nice to meet you.
Guy is still staring.
TURBO CAT – Mike, shake my hand and tell me your name.
Mike shakes Turbo Cat's hand.
MIKE – Mike.
Short moment of silence. Then Mike shouts.
MIKE – Wait. If you already know my name, why did you ask? And how the hell do you know my name?!
TURBO CAT – Look, I was just trying to be polite, okay? You already know my name, too. And just how do you think I know you've never missed an episode?
Mike whispers
MIKE – You've been watching me.
Turbo Cat, shakes his head with an approval and starts eating popcorn. Mike becomes 'stiff'.
MIKE – NO NO NO When you say you've been watching me, you mean like, you've seen everything?!
Turbo cat continuously eats popcorn
TURBO CAT – Yeah, pretty much.
MIKE – So you've seen me doing…
TURBO CAT – Yup. But I'd rather forget that image. So please don't bring it up again, okay?
Mike shouts
MIKE – OH MY GOD, You're a stalker!
Mike leans toward Turbo Cat who seems to completely ignore him and whispers
MIKE – I'm gonna kill you.
TURBO CAT – Mike, I'm a cartoon. You can't kill me and don't forget that I am the super hero in here, so there is no way you'd win. Now, calm down and enjoy this holy moment, will ya.
Mike goes back on to his spot.
A longer moment of silence. Turbo Cat is eating popcorn while Mike is heavily thinking (you can see it on his face [poor thing]). Finally he speaks
MIKE – Soo… are you like, real?
TURBO CAT – I'm as real as long as you think of me, mate. It all depends on you. As long as you enjoy my story, I'm a star.
MIKE – But you know, you look much more high quality than in the tv. All the shadows and stuff
TURBO CAT – Oh you don't like it? I can go back to the original. I just thought it would make you feel more comfortable if I had some realistic shadows and lights on me you know, to fit in properly…
Mike is trying to speak
MIKE – No, it's okay I was just asking
TURBO CAT – … or maybe you're a fan of more modern techniques? I can do that too.
Turbo Cat changes in to a hyper-realistic version of himself (perfect CGI).
MIKE – OH WOW. You look great!…
TURBO CAT – Yeah thank you. It's pretty amazing right? Do believe that I truly am real now?
MIKE – …I would even say you look too great.
TURBO CAT – Wait what? How can I look too great? Man, you make no sense. I've been trying hard to impress you and you…
MIKE – No, no wait, don't get me wrong, you look awesome it's just… You look too good for the place you are in. Look around.
Turbo Cat looks around
MIKE – See, everything in here is really boring and low detail, and you are a very high quality piece. And in this environment, the realism makes you look even more unreal.
TURBO CAT – I see what you mean now. It's not a very good mise-en-scene. I'll go back to my old self now.
Turbo Cat, kind of upset, changes back in to his original shadowless TV version self.
MIKE – You know, I actually believe that some things should never have a 'makeover'. And not because they are not good enough but because it takes their charm away… But… do you mind bringing the shadows back though, they kind of suit you in this dimension.
TURBO CAT – Sure
Turbo Cat brings the shadows back, still a little bit down.
TURBO CAT – I've heard that it's hard work being a toon in the real world. All the shadows, interactions and all the REAL stuff. But I didn't realise it is so hard with CGI. You do like your things believable huh?
MIKE – Don't get me wrong. I know you're alive cause I'm talking to you, (unless I am crazy…) but it just feels weird if you are breaking all the rules of the real world. Then, you don't fit in, you know? It makes you look fake. You need a golden mean.
TURBO CAT – You mean something like this?
While saying it Turbo Cat stretches his arm across the sofa and to the other side of Mike's body, then he taps Mike on a shoulder. When Mike looks in this direction Turbo Cat's hand slaps him repeatedly in the face. By the time when Mike goes to grab the hand it is already back in it's place at the other side of the sofa, where Turbo Cat is heavily laughing.
Turbo Cat talks while laughing.
TURBO CAT – This was fun. I might actually stay in this world. You were so busy talking about being realistic, you've forgotten that I'm a cartoon. Mike, don't you ever forget there is nothing that I can't do that you can.
Mike, angry, is about to jump on Turbo Cat to bit him up. When the image fades and he wakes up. In the dark front room, on the sofa, in front of the TV – Turbo Cat rerun is on. Mike looks at the screen with a shine in his eyes, he is still overwhelmed with a dream. Turbo Cat just used a pawzooka.
Mike says.
MIKE – Well actually I think there is. Someone has to animate you! You might have managed to fool me for a second but it is you who is stuck in the TV, not me! You are just a caricature of life!
He gets up off the sofa and stops for a moment. The Turbo Cat cartoon continues normally. Mike finally manages to free himself from the dreamy delusions and while heading towards the kitchen door (to the right from the sofa) he says
MIKE – Oh man, I was just shouting at a cartoon character, I really gotta stop working so hard.
When Mike crosses the kitchen-front room barrier we hear Turbo Cat's voice say
TURBO CAT – Next time, I am taking you in to my world, Mike. And then, we will see who is unreal.
THE END
Finally….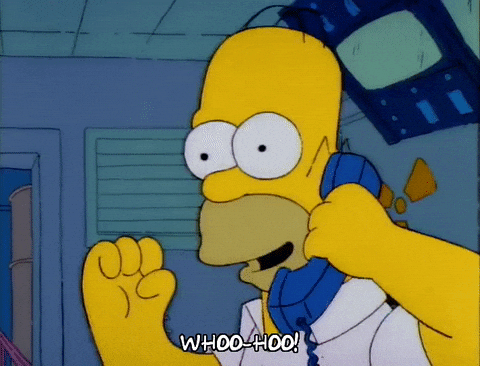 References:
GIPHY. (2017). Homer Simpson GIF – Find & Share on GIPHY. [online] Available at: https://media.giphy.com/media/xT5LMQ8rHYTDGFG07e/giphy.gif [Accessed 12 May 2017].