EVALUATION
I can't believe I am finally done with this.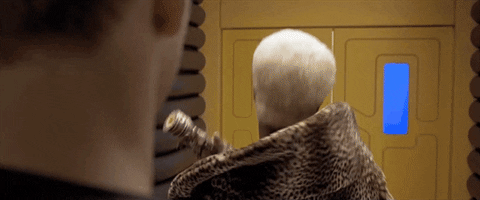 This project was definitely the hardest out of all and now I feel that I am ready for the next one and I will nail it. It was a long time of real hard work but the outcome is satisfying (although I am unhappy as always…)
Time Management
I am pretty happy with my time management for this project. I spent about 3 weeks on building and rigging while creating animatic and then the rest of the time I spent on actual animating. It turned out that I went a little bit of the top with the story and it took me a really long time to animate it because it's long… Plus I had quite a long break in the middle of the project due to the health problems.
Final Outcome
Although I am not 100% happy with it I think it's my best work yet. Of course I am not going to stop trying to get better now, I am not even close to what I am expecting of myself.
I believe my animation for this project is convincing enough and it fulfils the brief. One character makes the other do something in order to overcome an obstacle, so there is an interaction and a little bit of action and even some dialogue (lip syncing is annoying). It shows that I worked very hard and that I understand what I am doing as well as what is expected from me. Of course If I had more time I could make it perfect but right now this is all I got. I wanted my story to be more complex than the others and prove myself that I've gotten better with story telling. It's not perfect but its definitely better. I have raised the crossbar and achieved all that I could at the moment, now it's time to raise it even higher. I really am glad that it turned out to be such a complicated piece, because I managed to handle it and I didn't get lost in it. I have also learned many new things not only in just animating but also at using software which I believe will save me a lot of time in the future.
My goal for the next project is to make it shorter so I could put more work in to making the animation better.
Things I'd like to change
I'd love it if this animation was less static. For example in the first scene when Pearl says "NO" she is not moving at all. I am going to try to make the next animation more alive.
In my opinion everything is not smooth enough. I know it would require twice as much work as this but I will try to achieve next time.
I am not happy with the way cat is walking. I did it due to the lack of time but lets face it – SAUSAGE LEGS.
I am not pleased that while the "glimpses" of the freezing heart you can't notice that it's freezing, even thought that was the point of it being there… Maybe if the colour had more contrast in them it would be more visible. Unfortunately I had no time to fix it.
I really don't like the voices. In my head I sound like the best voice actor ever but it's worse in real life… I need some good voice person for the next project.
Maybe there could be more acting on the characters faces in 2D. I mean, there definitely could have been more acting in there, but please ignore it, the whole thing is pretty complex.
I think that some scenes are to short, ex.
And I'd like to ad some more scenes, for example the one when the monster kicks the Kat (scene just before the picture above) and the scene when he hits the ground, just before this one….
… as well as the scene when Pearl is turning around on the bed and goes back to sleep. All those cuts happened due to the lack of time.
I also believe that there should be a bigger contrast between Kat's colour and the environment in 3D.
As the last thing I'd like to notice that I still don't know why some things have sharp glimpses of light appearing on them out of nowhere.
Feedback
After publishing the animation online it met with a real worm reactions. What surprised me is that everyone got the story and there was no major misunderstandings although there was a few people saying that the "heart creaks" were confusing them but then others said that they don't agree with that (so I don't know where to stand with it, I personally think they should be in there). I was worrying understanding the story would be difficult since it's like one episode out of the bigger picture, but it really worked. The designs were particularly appreciated both in 2D and 3D. People said that Pearl and Kat are very likeable and they would like me to make more episodes of it. Someone even suggested that I should pitch it for FREDERATOR STUDIOS….. maybe one day
Here are a few of the comments
"I love the design, the colours and characters look amazing. Both the 3d and 2d aspects of the film are endgame as in they could be considered to be professional rather than student work."
"I really loved it! Please make more!"
"It's very pretty, the heart monster stole my heart x D"
"The sound, however isn't right. It's very low during dialog yet very high with the explosion. (…) Well it is an animation course not an audio course or editing course."
"I think sound quality meaning your voice and the cats voice isn't very good, I was struggling to understand some parts."
"Cat's voice is really funny! Is it you? And the monsters "grunting" is just lovely."
"The way that monster grows his legs is some top animation skill. Keep going!"
I do agree with all the critic I received. The sound could have been better as well as the editing and it would be, If there only was more time. But that's like with everything.
Thank you for your time, I hope you enjoyed the animation.
Happy Easter!
Referencess:
GIPHY. (2017). Excited GIF – Find & Share on GIPHY. [online] Available at: https://media.giphy.com/media/lHYzVpeRKul5C/giphy.gif [Accessed 07 Apr. 2017].
GIPHY. (2017). Cute GIF – Find & Share on GIPHY. [online] Available at: https://media.giphy.com/media/HT27emhJlQ6aI/giphy.gif [Accessed 07 Apr. 2017].